Salinas DUI Lawyer
Attorneys Protecting Your Rights & Driving Privileges in Monterey County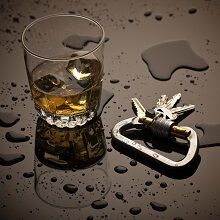 In California drunk driving cases, our goals are generally twofold: first, to protect you from the consequences of a DUI conviction; and next, to protect you from the risk of a driver's license suspension.
To learn how our experience can help you achieve both objectives, contact a DUI lawyer at The Worthington Law Centre in Salinas or San Francisco.
Arrested for DUI? Call (831) 704-1852 for a free consultation about your DUI defense options.
Is a DUI a Felony?
A DUI can be charged as both a felony and a misdemeanor in the state of California. While most DUI charges are misdemeanors they can escalate to felony charges when:
A driver has been charged with a third prior DUI offense within 10 years
A driver has previously been charged with a felony DUI at any point in the past
An individual other than the driver was seriously or fatally injured as a result of the alleged DUI
According to the California Vehicle Code 23152(a) the penalties for a felony DUI charge are much more severe than that of a misdemeanor charge and can include up to 10 years in jail and thousands of dollars in fines. If you are facing felony DUI charges it is important to contact an experienced attorney from The Worthington Law Centre right away to begin working on your case.
What are the Penalties for DUI in CA?
If you are arrested for drunk driving, you may face:​​​​​
License suspension/revocation

1st offense - up to 6 months
2nd offense - up to 2 years
3rd offense - up to 10 years

Alcohol education, assessment, and treatment
Vehicle Confiscation
Installation of the ignition interlock device
Jail time (48 hours-16 months)
Fines ($2,000-$18,000)
How to Fight a DUI in California
We first:
Seek dismissal of the criminal charges by attacking the initial traffic stop
The officer's probable cause to make the DUI arrest
The circumstances of the blood or breath test
Or the equipment used to get the results
In some cases, we can make an effective challenge the evidence of intoxication through forensic toxicology experts. If a plea agreement is necessary, we work closely with our clients to ensure that they fully comply with all court and DMV orders, ensuring no further court proceedings or license consequences are instituted.
What Is the BAC limit in CA?
The BAC (blood alcohol concentration) limit for a standard DUI in CA is 0.08%. For a person under the age of 21, the limit is 0.02% and for an enhanced penalty, the limit is 0.16%.
Restricted Licenses and IIDs
In most cases, if you are convicted of driving under the influence, you may be eligible for a "restricted license." This allows you to drive to important locations such as school and work. If you have a restricted license, you will also be required to install an ignition interlock device (IID).
Restricted License and IID Time Restrictions:
First DUI Offense: Six-month IID requirement or 12-month restricted license
Second DUI Offense: 12-month IID requirement
Third DUI Offense: 24-month IID requirement
The Ignition interlock device requirements can be completed after your driver's license is reinstated or as part of the restricted license.
What Is Implied Consent in California?
Under California implied consent law, all drivers have agreed to take a breath or blood test if they are arrested for DUI. If you refuse, you could face one to three years of driver's license suspension depending on if you have had any prior DUI convictions.
Can a DUI charge be reduced?
In California, it is possible to plea bargain for a lesser charge if you are facing charges of driving under the influence. The lesser charge is known as "wet reckless" and reduces the DUI charge to reckless driving.
The penalties for a wet reckless charge include:
$145 to $1,000 in fines
90 days in jail
Alcohol and drug awareness program
Learn more about if plea bargaining is the right option for your case by speaking to our Salinas DUI lawyer today.
Experience You Can Trust
Tom Worthington has been certified since 1977 as a specialist in criminal law by the State Bar of California's Board of Legal Specialization. His long experience with investigation and defense of serious criminal charges can help protect you in a California DUI case.
Our law firm represents clients who face such charges as:
First offender DUI
Repeat or felony DUI
Vehicular homicide and assault cases
Underage or juvenile DUI
Implied consent violations or refusal cases
We Keep a Close Eye on Your License While Defending Your DUI Charges
Meanwhile, our understanding of the driver's license suspension process can protect your right to drive while your DUI case is pending. We continue to work on all aspects of the case in such a way as to minimize both punishment and collateral consequences of a driver's license suspension.
DUI defense can be complicated, and our criminal defense lawyers can explain your rights, risks, and most promising strategies in terms that you can understand. To learn more about your options for resolving a drunk driving case, contact a Salinas DUI attorney at The Worthington Law Centre in Salinas or San Francisco.
Charged with a DUI or other alcohol-related offense? You must act fast to prevent your driver's license from being suspended. Call our experienced Salinas DUI lawyers at (831) 704-1852 or contact us online right away!